Press Release
Products and solutions Sep 26, 2018 3:00 PM
Meeting the Navy's demand of tomorrow with thyssenkrupp's MEKO® family
The German company bets on the exclusive MEKO® modular technology for the construction of corvettes and frigates
Since 1960, 150 ships were contracted by thyssenkrupp for international navies from several countries
A global leader in systems for naval surface vessels and non-nuclear submarines, thyssenkrupp Marine Systems wants to strengthen its operations in the Brazilian naval market. The company now is focusing on its MEKO® class, one of the most revolutionary concepts in naval shipbuilding. Its modular concept facilitates local integration and transfer of technology, helping to reduce cost of acquisition, maintenance and modernization of half-life.
The MEKO® modular concept
The tradition of multi-mission ships of the MEKO® (Multi-Purpose Combination) family dates back to the early 1980s, when the first frigate was delivered. Since then, almost 82 MEKO® corvettes and frigates of this class have been delivered to Navies in 14 different nations, 37 built outside Germany, and all these vessels are still in full operation – offering a lifecycle of more than 40 years. This class flaunts the benefits of five generations of corvettes and frigates shown in our proven design succession.
A key design philosophy of the MEKO® classes is design iteration, whereby the best design features of each class evolve into the next class, ensuring the new classes of ships have solid, well-proven technology, materials and standards. This design progression reduces risk within the design, allowing competent and proficient innovations to be introduced into a new class.
Combining state-of-the-art technology, innovation and robust fighting capabilities, the MEKO® class is an authentic blue-water ship. These vessels have outstanding range, endurance and sea-keeping qualities, and are cost-efficient to operate. As a result, navies have a flexible and versatile fighting platform for 4D warfare, and a general purpose 'workhorse' for diversified mission profiles.
"Thanks to the modular concept of the MEKO® class, it is possible to reduce ship construction time as well as minimize the risks associated with system integration", explains Dr. Sebastian Schulte, CFO of thyssenkrupp Marine Systems. The adoption of parallel and non-linear construction methods also allows the shipyard to focus on the structural part, while armaments and sensors can be mounted on the modules in other locations for future ship installation. "This technology greatly facilitates the transfer of technology and know-how, boosting business and strengthening the local market", adds Schulte.
With the acquisition of ATLAS ELEKTRONIK, in April 2017, thyssenkrupp Marine Systems has continued to develop as an integrated system provider, improving its technological capabilities in sonar and combat systems. These are key areas to customers' choice of supplier, and are therefore also of strategic importance in connection with the global campaigns under way for several submarine and surface vessel programs.
thyssenkrupp Marine Systems is also well known as a global and reliable partner for comprehensive after-commissioning support, with a broad scope of services including spare parts' procurement, infrastructure-related measures and modernization programs. The innovative, flexible and multifaceted In-Service Support (ISS) program enables customers to maintain the highest possible operational availability of their surface vessels and submarines in the most cost-effective fashion.
More than 150 naval surface vessels and 160 submarines were contracted from thyssenkrupp Marine Systems since 1960 – many of these vessels have been built in customer countries.
The Tupi class and the long-term relationship with Brazil
Built at thyssenkrupp's shipyard in Kiel, Germany, and incorporated into the Brazilian Navy in the late 1980s, the first Tupi-class submarine marked the beginning of the German company's relationship with the Brazilian naval defense sector. After this first submarine, four other units – Tamoio, Timbira, Tapajó and Tikuna – were built at the Navy Arsenal in Rio de Janeiro based on the design and technology of thyssenkrupp. These vessels are in operation and are of fundamental importance for patrolling the Brazilian coast.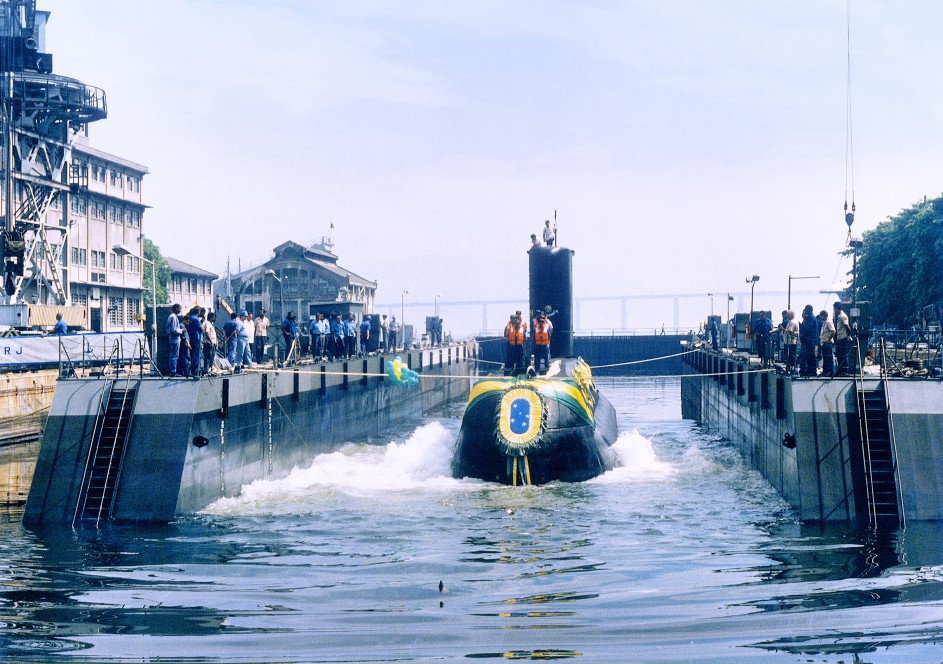 With more than 100 years of experience in designing and building non-nuclear submarines, thyssenkrupp has developed a unique fuel cell-based air-independent propulsion (AIP) technology. This makes these submarines highly capable and stealthy, operating in the most extreme environments in the world for more than 20 navies. An example of this is the HDW Class 209 submarines, which can be found in every ocean in the world – no other non-nuclear submarine class has been so successful since World War II.
In addition to proven experience, the company continuously invests in innovation. With AIP systems, it was possible to significantly increase the time the submarine is submerged, making detection of this type of vessel practically impossible.
The HDW 212A, 214 and Dolphin AIP submarines were the first to perform extremely long dives regardless of external air sources. These classes set new standards in terms of signatures, reach, automation, gun control, external communication, crew comfort and convenience.
About thyssenkrupp Marine Systems
thyssenkrupp Marine Systems is one of the world's leading system suppliers for submarines and naval surface vessels. The company has a history of naval shipbuilding that dates back centuries and offers state-of-the-art technologies, innovations and extensive and dependable services to customers around the world.